Home

Related Products

Solid Voltage Regulator

Solid Voltage Regulator HHT-U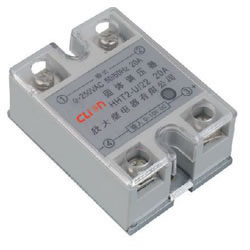 Solid Voltage Regulator HHT-U
Features of Solid Voltage Regulator HHT-U
1. Compact structure; small size; semi-permanent machine life
2. High Corrosion Resistance; high vibration-resistance; strong explosion-proof
3. Low power dissipation; easy to use
Parameters of Solid Voltage Regulator HHT-U
Type
HHT2-U/22 10-40A(SSR-VA)
HHT3-U/22 10-100A(SSR-VA)
Name
Single-phase Solid Voltage Regulator
Full-isolated single-phase voltage regulation module
Control mode
0-5VDC or 0-10VDC
0-5VDC,0-10VDC,4-20mA
Load Voltage
22:220VAC
22:220VAC
Voltage-regulation Scope
22:10-250VAC
22:10-250VAC
Isolation Voltage
Passive type; Full isolation
Active type; Full isolation
Off-state Leakage Current
≤10mA
≤10mA
Output Current
10A,15A,20A,25A,30A,40A
10A,20A,30A,40A,100A
Transient Voltage
22:600VAC
22:600VAC
On-state Voltage Drop
<3VAC
<1.6VAC
Dielectrics Voltage-resistance
≥2500VAC
≥2500VAC
Insulation Resistance
500mΩ 500VDC testing
500mΩ 500VDC testing
Ambient temperature
-30~80℃
-30~80℃
Dimensions
63×45W×26H
106×75W×31.5H
Work Pointer
LED
LED
Installation
Fixed by screw
Fixed by screw
Packing
Quantity
100
30
Dimensions of outer case
380×215×175mm
380×215×175mm
Weight
Approx. 135g/145g
Approx. 390g/540g
Note:
1. When load currency is above 10A, a radiator is necessary; when above 80A, a fan is necessary.
2. When controlling inductive load, a varistor is necessary and its voltage could be 1.6-1.9 times of load voltage.
Outline drawing and Installation dimension (mm)
Besides Solid State Relay, Clion can also produce other high quality electrical components like PCB relay, Power Relay, Time Relay or Surge protector.

Related products

Solid Voltage Regulator HHT