Home

New Products

Bridge Rectifier KBPC
Model description
Example: KBPC 35 06
KBPC: Bridge rectifier
35: The value of direct output current (Id)
06: repetitive peak reverse voltage (VRRM = Indicated value *100)
Given below is the detailed introduction of KPBC 5-35A bridge rectifier.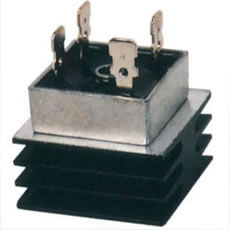 Bridge Rectifier KBPC
Features
1. The direct output current of the bridge rectifier ranges from 5A to 35A.
2. The repetitive peak reverse voltage ranges from 100V to 1600V.
3. Small sized, the bridge rectifier is applicable for various general purposes. And it is welded under vacuum and hydrogen-protected conditions.
4. Glass passivated diode chip is adopted.
5. Superior power to volume ratio.
6. This bridge rectifier is encapsulated in thermal conductive material, ensuring good heat dissipation.
Typical applications
CLION bridge rectifiers are designed to convert AC to DC power supply, and this electrical device is commonly used in industrial automatic control systems, numerical control systems and remote control systems, etc.
Technical parameters
Type
Direct output current Id
Single input mean forward current IF(AV)
Repetitive peak reverse voltage VRRM
Repetitive peak reverse current IRRM
Isolation voltage VlSOL
Dimension
A
A
V
Ma
V
KBPC5A-35A
5-35
2.5-17.5
100-1600
5
2500
28×28×22
External dimensions