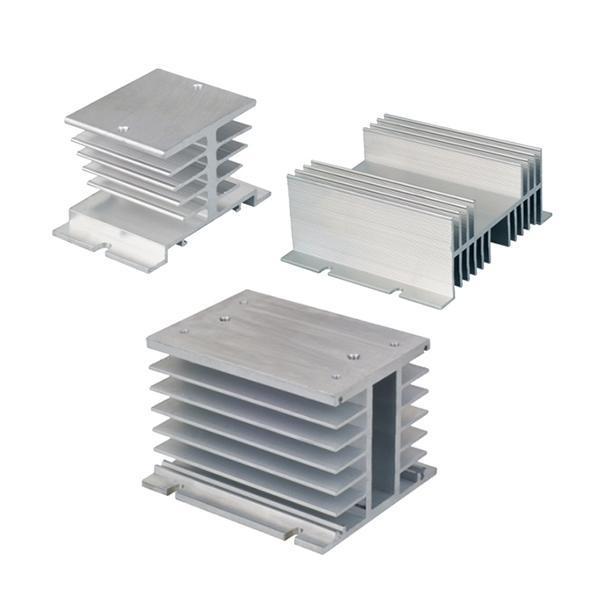 The function of heat sink is to assist the solid state relay, solid state voltage regulator and power semiconductor module to dissipate the heat, and prevent the device from damaging because of overheating. The selection of relay heat sink depends on practical current of driven load, size of heatsink, environmental temperature(season), atmospheric conditions(natural cooling or force cooling and air volume) and installation intensity, but not depends on the marked current on the relay.
Computational formula of heat
Heat=Practical load current(ampere)×1.5W/Amp
Notice of Clion: This formula can be applied to all series of Clion products, and the practical load current is the sum of practical three-phase load current for the three-phase solid state relay.
The reference standard of relay heat sink effect
The user can install a temperature protection switch with 75℃(having a couple of normal closed contact) in the installation surface of heat sink which nearby the edge of product ( within 20mm ) to prevent the temperature of product base plate( the surface contact the heat sink) not over the 80℃.
Having the control signal of product serial-in this normal closed contact. The normal closed contact is off, the control signal is cut off and the output of product is forcedly closed to protect the product when the temperature of inspection site is over 75℃.
Notice of Clion: Please adapt the temperature protection switch when the practical current of each phase is over 50A, the installation intensity is large and the environmental temperature is high in the practical using.
Product Model And Parameters
| | | | | |
| --- | --- | --- | --- | --- |
| Product type | Applicable product mode | Working current | Dimension | Weight |
| NN-060 | Single phase solid state | ≤20A | 50×80×50 | 100g |
| NN-061 | Single phase solid state | ≤40A | 70×125×50 | 200g |
| NN-062 | Single phase solid state | ≤60A | 110×125×50 | 300g |
| NN-063 | Single phase and industrial solid state | ≤80A | 180×125×50 | 630g |
| NN-034 | Three-phase solid state | ≤30A | 105×100×80 | 500g |
| NN-035 | Three-phase solid state | ≤20A | 150×88×35 | 365g |
| NN-036 | Three-phase solid state | ≤40A | 150×100×80 | 700g |
| NN-037 | Three-phase solid state | ≤80A | 260×180×50 | 1400g |
| NN-038 | Three-phase and industrial solid state | ≤150A | 150×125×135 | 2100g |
| NN-039 | Three-phase and industrial solid state | ≤250A | 200×125×135 | 2800g |
| NN-040 | Industrial solid state | ≤350A | 300×125×135 | 4200g |
| NN-045 | Three-phase and industrial solid state | ≤150A | 150×125×135 | 3100g |
| NN-046 | Three-phase and industrial solid state | ≤250A | 200×125×135 | 4100g |
| NN-052 | Single phase solid state | ≤30A | 100×48×77 | 310g |
| NN-055 | Single phase solid state | ≤40A | 100×80×77 | 420g |
| NN-057 | Single phase solid state | ≤80A | 100×80×123 | 750g |
| NN-WX01-50 | Single phase solid state | ≤60A | 100×50×96 | 346g |
| NN-WX02-100 | Single phase solid state | ≤100A | 100×66×80 | 520g |
Product Picture
NN-060
NN-061
NN-062
NN-063
NN-034
NN-035
NN-036
NN-037
NN-038
NN-039
NN-040
NN-045
NN-046
NN-052
NN-055
NN-057
NN-WX01-50
NN-WX02-100
Index
aluminum heatsink, relay switch, electric switch